Moët Hennessy Diageo Hong Kong and Macau

Help us feed people, not landfills.
Donate today and help us feed Hong Kong. Food assistance for the vulnerable has never been more vital.
All monetary donations over HKD100 are fully tax deductible.
Should you have any questions related to your financial donations, please email finance@feedinghk.org.
N.B. Please enter your work email address

The problem
1.4 million people in Hong Kong already live in poverty struggling to afford three meals a day. With school closures, job disruptions, health risks and rising food prices, this number is set to increase. At the same time, our charity partners are struggling to serve at-risk individuals. Daily feeding programmes such as hot meals in community centres were on hold for months, and are currently significantly reduced: alternatives are needed.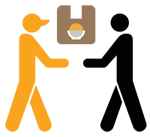 Our solution
Every day, we collect surplus nutritious food from manufacturers, growers, processors, distributors and retailers and deliver it to our network of over 140 partner charities, who in turn, provide food to those most in need across all 18 districts in Hong Kong.
All funds donated via this page will help us keep our warehouse open, trucks on the road and food assistance flowing to those that need support the most.
Together we can make a difference
From food drives to volunteering opportunities, we would love to get you involved in the right way.