Food waste does not only fill up our landfills; it produces greenhouse gas which is a major contribute to climate change. Amidst growing environmental challenges, businesses – particularly food donors – have a crucial role in promoting sustainability. DKSH, a leading market expansion services provider, has been supporting food donation to Feeding Hong Kong since August 2022, reducing food waste and feeding the community together with us. We talked with Hugo Reyes, Vice President, DKSH FMCG, Hong Kong & Macau to explore the impact of the company's donations and its contributions to sustainability efforts.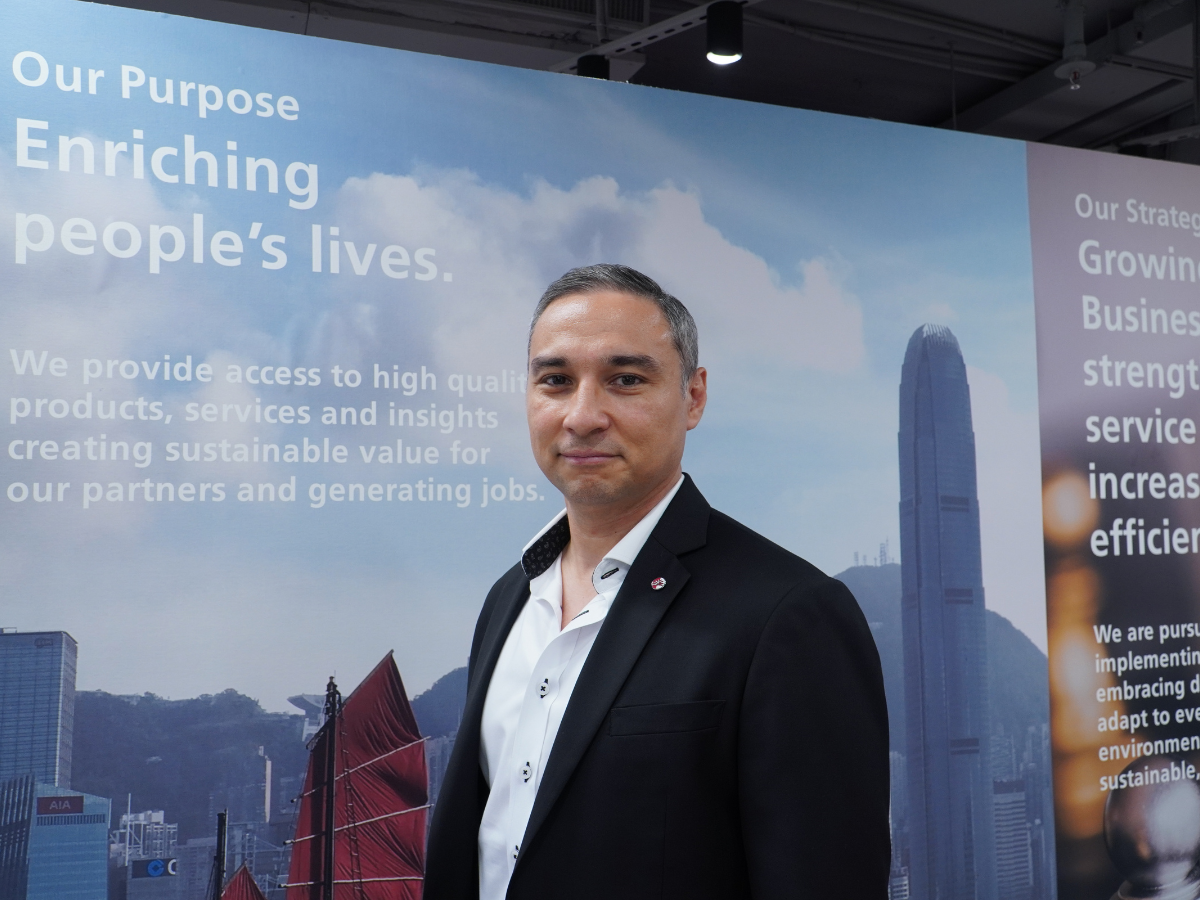 Hugo Reyes, Vice President, DKSH FMCG, Hong Kong & Macau
Since partnering with Feeding Hong Kong in mid-2022, DKSH has donated 19,280 kg of food including oats, canned vegetable soup, peanuts, and more.
Hugo said, "Our purpose is to enrich people's lives. Supporting the communities in which we operate is instrumental in bringing that purpose to life." DKSH has already supported 45,904 meals for 64 charities since our partnership began.
As we strive to feed our communities, it is also important to consider food waste as an urgent environmental problem. According to the UN Food Waste Index Report 2021, 8-10% of global greenhouse gas emissions are associated with food that is not consumed. This has clear negative implications for both the environment and food security.
In Hong Kong, a staggering amount of over 3,400 tonnes of food is sent to landfills every day. This means for every 6 minutes, food weighing the same as a double decker bus is sent to landfill. This is particularly concerning as food decomposing in landfills releases methane, a greenhouse gas that is 28 times more harmful to the climate than carbon dioxide.
However, there are ways which we can turn this around. As laid out in its latest sustainability framework, DKSH is committed to making its value chains more sustainable, becoming climate neutral by 2030, as well as making a positive local impact.
Hugo shared that sustainability is fundamental to DKSH's corporate values, which the company brings to life through its aforementioned sustainability framework, focusing on three pillars: "Our People, Our Partners, and Our Planet." Through reducing food waste and donating food to Feeding Hong Kong, DKSH is also contributing to the UN Sustainable Development Goals of Climate Action, Responsible Consumption and Production, and Zero Hunger.
"Partnering with Feeding Hong Kong enables us to scale our efforts to deploy more product waste through their NGO network efficiently and effectively, while guiding us on the standards and procedures required for donation."
With over 22,000 products in their portfolio, DKSH recognises its responsibility to mitigate food waste as a universal problem. Product waste reduction is therefore a key initiative within DKSH's sustainability framework.
"We work closely with our clients, customers, and other stakeholders to address this issue in a sustainable way, for the benefit of our planet and future generations," Hugo explained. At the same time, donating surplus products to Feeding HK's established NGO network supports the community by providing nutritious food to those who need it most.
It is encouraging to see companies like DKSH taking action to make a positive impact. Their support makes a significant difference and serves as an inspiring example for other companies to follow. By donating food that would otherwise go to waste, businesses can help address food insecurity while contributing to a more sustainable community. Thank you again to DKSH for their ongoing support of Feeding Hong Kong and their commitment to sustainable business practices.
Are you a food business with surplus food?
We collect high quality surplus food from farms, manufacturers, distributors and retailers, and redistribute it to local registered charities. Donating your surplus to feed people, not landfills, is cost and time effective, environmentally friendly and benefits the community. Give us a call at 3643 0912 or email us at foodbank@feedinghk.org