Credit Suisse x Feeding HK
COVID-19 Emergency Response

Help us deliver emergency food parcels to vulnerable families
For just HK$215 you can support an emergency food box for a vulnerable household. Donate today and help us feed Hong Kong. Food assistance for the vulnerable has never been more vital. All monetary donations over HKD100 are fully tax deductible.

The problem
1.4 million people in Hong Kong already live in poverty struggling to afford three meals a day. With school closures, job disruptions, health risks and rising food prices, this number is set to increase. At the same time, our charity partners are struggling to serve at-risk individuals. Daily feeding programmes such as hot meals in community centres are no longer viable and need to be replaced.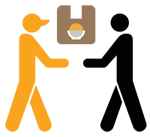 Our solution
Over the next 3 months, our goal is to source, pack and deliver 9,000 emergency food boxes. Each box will contain shelf stable foods such as rice, noodles, oats, and beans, canned protein, vegetables and fruit, and UHT milk. The pack size and contents will support less frequent distribution and ensure basic supplies for up to 14 days.
Join the community and get involved with Feeding Hong Kong!
From food drives to volunteering opportunities, we would love to get you involved in the right way.