EQT x Feeding HK
Warehouse Workout Fundraiser

Help us rescue surplus food and feed Hong Kong by making a donation today.
For just HK$100, the cost of three cups of coffee, you can support 10 meals for those most in need! Donate today and help us feed Hong Kong and reduce food waste at the same time. Food assistance is very important for the well-being of the vulnerable.
All monetary donations over HKD100 are fully tax deductible.
HK$ 153000 / HK$ 150,000 raised

The problem
A shocking 3,400 tonnes of food waste go to the landfills in Hong Kong every day,that's the equivalent weight of 234 double-decker buses! Hong Konger's throw away an estimated 71 kg of household food waste per person every year.While more than one million people live in poverty, struggling to afford three nutritious meals a day. Feeding Hong Kong is on a mission to change that by rescuing surplus quality food and redistributing it to charities who feed those in need.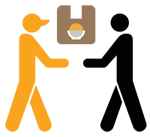 Our solution
Feeding Hong Kong brings food from where it is plentiful, to where there is a need. We rescue food, feed charities and educate people about food waste. We collect surplus food from manufacturers, distributors and retailers – food that is still good and safe to eat. Then redistribute those food to our charity partners. This can help to reduce food waste and help people who are in need in the community.
Join the community and get
involved with Feeding Hong Kong!
From food drives to volunteering opportunities, we would love to get you involved in the right way.