Help Alleviate Food Insecurity in Hong Kong

Help us deliver emergency food package to vulnerable families
HK$150 by you will help provide 1 essential food package, which will feed 30 meals for those in need.
With a target of HK$30,000 raised through this campaign, we can enable 400 food packages to be distributed with the Bloomberg match!
FAQ
Q: Do I need to request a match on BOB after my donation through this page?
A: No. The company match will be automatically processed at the end of this campaign.

The problem
Hundreds of thousands of low-income families in Hong Kong have been hit hard by the Covid-19 pandemic with the city seeing more jobless individuals and families seeking help for basic food and other necessities. As food insecurity in Hong Kong become an increasingly big concern, with our food bank partners like Feeding HK struggling due to the recent third wave of the pandemic heavily impacting the most vulnerable communities, strict social-distancing measures have also forced them to scale back operations. Hong Kong food banks have faced supply chain disruption thus impacting their donation programmes combined with a drop in volunteers and money coming in.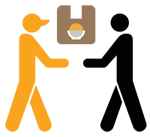 Our solution
As we are no longer able to volunteer in person, we can still continue to support Feeding HK with what help they currently need the most; physical staples and monetary donations. You can help create an essential food package as part of our office wide initiative or make a donation here that will help contribute to the cost of a food package. With your support, we will aim to reach a target of 400 packages! All donations made through this page will be matched by Bloomberg automatically, and not count towards your US$5,000 maximum for the year. (Please be sure to indicate your Bloomberg email when donating.)
Join the community and get
involved with Feeding Hong Kong!
From food drives to volunteering opportunities, we would love to get you involved in the right way.