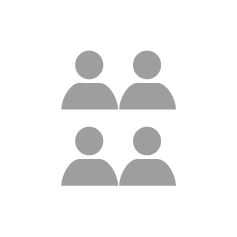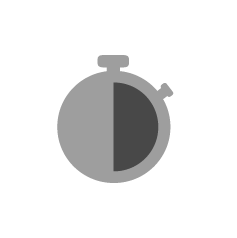 RECIPE BY
Manav Tuli
CHAAT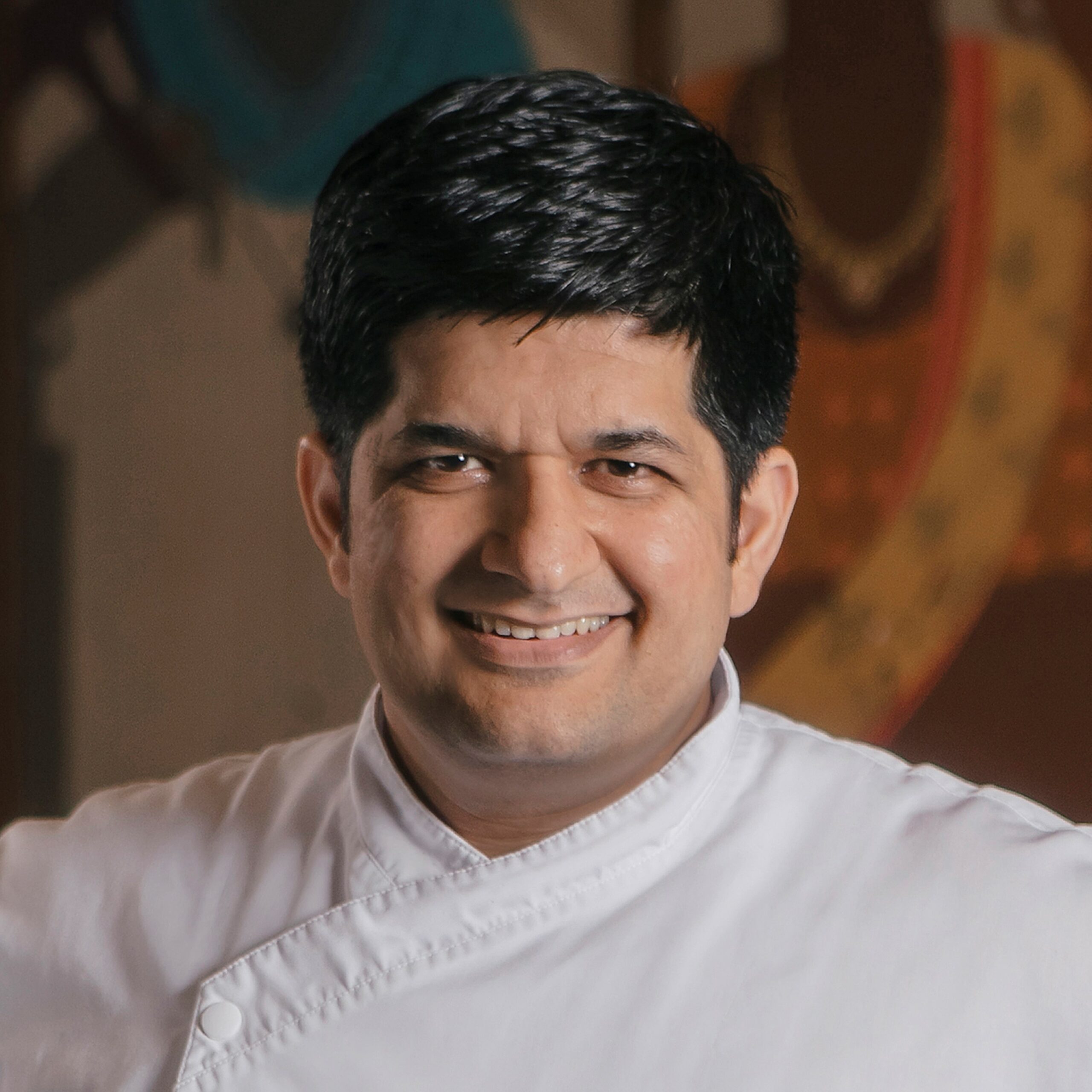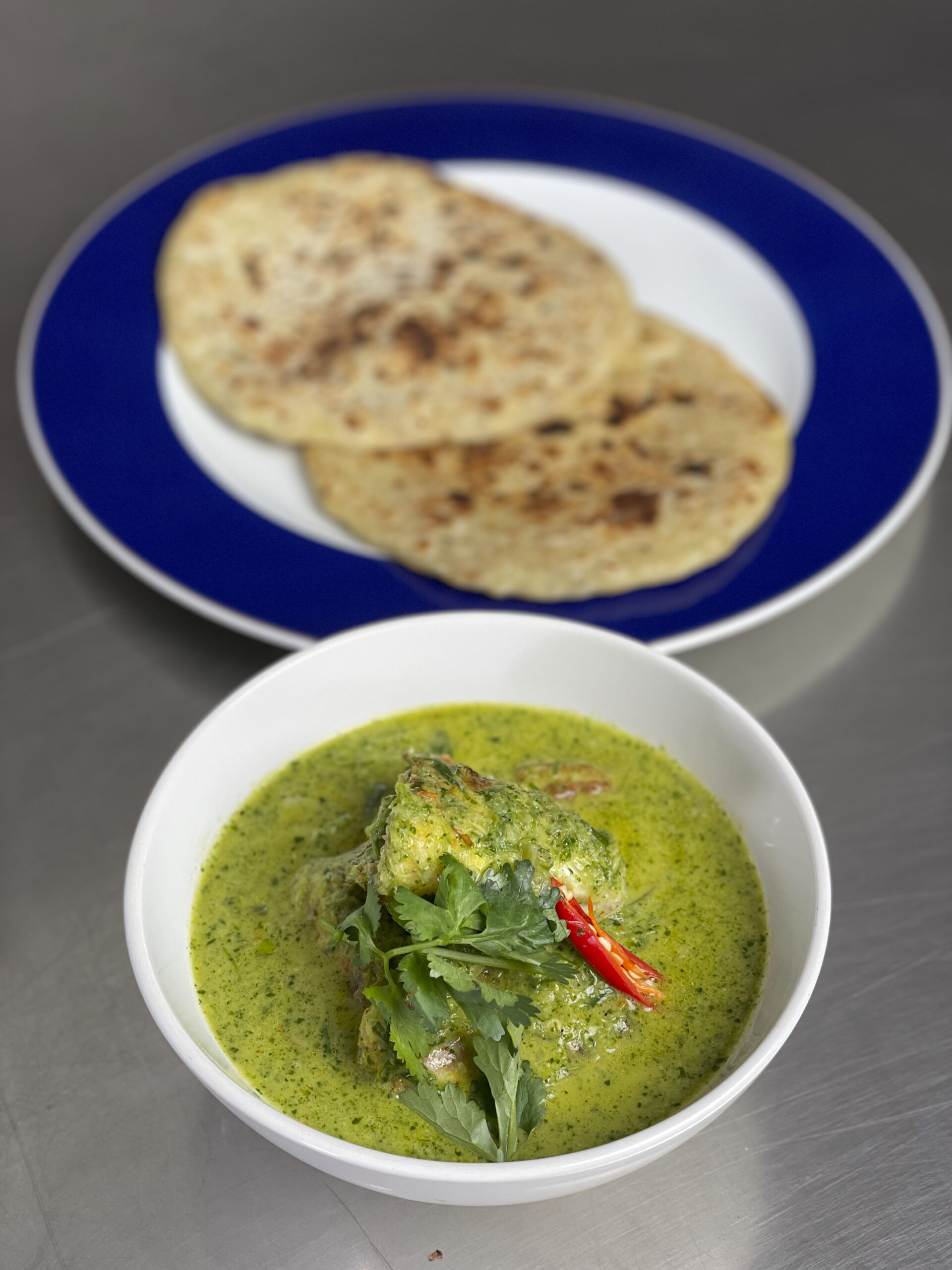 Fish curry with stuffed mushroom paratha
Fish Curry
3 pieces of fresh fish
250g fresh coriander, roughly chopped
150g spring onion, roughly chopped
4 inch-piece ginger, chopped
5 – 6 cloves garlic, chopped
2 fresh red chillies, chopped
¾ onion, chopped
¼ onion, sliced
½ tomato, sliced
½ lemon
200g (½ can) coconut milk
120ml vegetable oil
55ml sesame oil
1 tablespoon turmeric powder
Pinch of black pepper
Pinch of salt
Paratha
400g plain flour
200g (½ can) coconut milk
1 egg
30ml vegetable oil
30 ml of water (more or less depends on the texture)
Pinch of salt
Paratha Stuffing
120g luncheon meat/ minced pork
350g fresh mushroom, blitzed
100g onion, chopped
35g garlic, chopped
35g ginger, chopped
40ml vegetable oil
½ tablespoon oyster sauce
Saucepan
Large bowl
Sharp knife
Chopping board
Blender
Plate
Fish curry:
1. Fillet the fish. Leave to marinate with little salt, turmeric powder, and sesame oil for 10 minutes.
2. Sauté the fish in a pan with a bit of oil and set aside.
3. Heat the vegetable oil and sesame oil in the pan. Add chopped onion and sauté gently.
4. Heat the wok over a high heat. Add the chopped ginger and garlic. Sauté gently until slightly golden brown.
5. Add the coriander, spring onion and red chili to the pan. Sauté for 1 minute over high heat.
6. Remove from the heat and put the cooked vegetables on a plate. Set aside to cool.
7. Put all the cooked ingredients into the blender. Blend until smooth.
8. Add a little oil in the pan. Sauté the sliced onions, then the sliced tomatoes.
9. When tomatoes start to get soft, add the blended paste to the pan and a little water to adjust the thickness.
10. Add coconut milk, a pinch of salt, and a pinch of black pepper to taste.
11. As it boils, add the pan-fried fish. Cook for 1 minute.
12. Remove the saucepan from the heat. Add lemon zest and juice. Serve.
Paratha Stuffing:
1. Heat the oil in the saucepan. Add chopped onions and luncheon meet. Stir-fry for 1 minute.
2. Add chopped ginger, garlic and mushrooms. Sauté for 2 minutes.
3. Remove from the heat, mash the mixture and set aside.
Paratha:
1. Put plain flour, egg and salt in a bowl. Mix well.
2. Add coconut milk. Mix well. Add a small amount of water if the dough is too dry.
3. Make even sized balls and set aside.
4. Take a paratha dough ball and lightly flour the dough surface. Press some of the mushroom mixture inside the middle of the dough ball.
5. Flatten the dough into rounds with your hand.
6. Pan-fry the flattened dough at low heat in a pan, adding oil only after it gets little brown specks. Serve hot.
   Cooking Tips
If the dough appears dry, add a little water to loosen it.
Add a little oil on the hands to work the dough, therefore the dough will not stick to your hand!
Keep the bones of the fish and vegetable stalks for stock or soups.
Cook the vegetables and herbs shorter as they easily wilt and turn yellow.
Nutrition Advice
Fish is low in fat and packed with high quality protein. The protein in fish supplies the body with the necessary building blocks that help physical and mental health.
Coriander is a superfood! It is rich in antioxidants helping to reduce cancer and cardiovascular disease risks.